On the
other blog
, I once wrote about wedding dresses and the odd infatuation I have with them. I was going to take a photo of all the bridal magazines I own to show you this infatuation, but when I went into my room and saw that they were in about 5 different places, that idea swiftly vanished.
(Though I will upload these shots, because it's just
kriffing awesome.
)
This is
Discerning Bride magazine
.
They write about weddings, suppliers and bridal trends in south-east Queensland.
And this is the editorial page.
Yeah. That's right.
Excuse me while I quietly bask in the glow of being published, then let out an almighty fangirl squee.
Anyway
.
So I have enough of an interest in bridal gowns and the like to be offered an internship - and by that, one where I actually got published - with one of Queensland's best bridal magazines.
And tonight, we shall revist said interest to a blissful soundtrack of, currently, the Beatles.
Onwards!
Of course, I can't help but begin with this dress.
Kate Middleton, now the Duchess of Cambridge. I've not seen many wear dresses that look this spectacular, and not be worn by the dress. Maybe it's that it's a royal wedding, but my gosh, if ever a dress suited a bride, it's this.
Grace-Kelly-salute, yes. Perfection? Heck yes. When Kate stepped out of the car and we all got the full glimpse of the dress, there was nothing else to be said. I
was
, with everyone (including myself) expecting a McQueen, thinking the dress might be more daring, and this perturbed me a bit. Class, elegance and a good dose of classic fashion was what bridal trends desperately required, and this dress was going to do it.
Kate, echoing what so many have said,
thank you for wearing sleeves
.
The neckline is probably my favourite part of the dress. The shape it makes as it follows the lace's natural pattern is just beautiful. It's weird that it's something that's never crossed my mind, to have a hem or a neckline following a lace edge. Maybe it's because I primarily associate lace with scalloped edges (which brings out an involuntary shudder, as it's usually so
tacky
...). Sarah Burton did it beautifully, and this is definitely going to be one of those dresses that we'll look at in fifty years and still note the class it had. Don't bash me, Diana-lovers, but really? That's not something you'll get from hers.
It's a
cute
dress, I suppose, if you look at it in a Disney-Princess-esque light. The big poofy sleeves are oddly reminiscent of the Little Mermaid (Googling dates, however, shows me this came first.
Disney is always watching
...), and it seems like it's a princess' dress. You know, when you're 9 and imagining what a princess would wear. It's 80s all over, and unfortunately that's how we're going to classify this dress.
Also, the train?
Scalloped. Lace. Edge
.
*prepares to die at the hands of rabid Diana fans*
So, armed with my new adoration for
that lovely neckline
, I found this dress and instantly fell in love with it for its hem.
Depending on where you look, this is dress is alternately referred to as 'Ina' and as 'Diana'. No matter; on Henry Roth's website (the incredible designer of this gown), he calls it 'Ina'. I first saw the photos on
Polka Dot Bride
, where upon frothing, I madly raced to Henry's website. I'd never found his gowns to be my taste (on the whole, I'm a Nicole Miller girl; I'll get back to that in a moment), but his Urban Chic/Spring 2011 Collection just gives me the shivers in a thoroughly excellent way.
Incidentally, Henry said that this collection was inspired by the royal wedding - as every collection in this upcoming season no doubt will be.
"The recent wedding of Kate Middleton reinforced many things to Michelle Roth (my sister who I work with) and myself. Keeping things simple and striking seems to be the style message for 2011."
I love the above dress for its simplicity. It's a fabulous silhouette, and as my personal style leans towards the more classic colours, cuts and silhouettes, this certainly suits. The hem is a work of art, the train is subtle, yet still makes a chic impact, and
ivory
, oh ivory, you're a welcome change from the champagne coloured gowns I'm seeing in bridal stores around here.
I'd pay good money to wear this dress.
Monique Lhuillier's Fall and Spring Collections had a lot of tea length, and almost mini-skirted, bridal gowns. As much as I try to be open to new trends, it didn't seem to work. It's a pretty decent idea for a reception gown (if you're lucky enough to have one, and a Lhuillier to boot), but I can't see it working as a ceremony gown in very many circumstances.
Maybe in Vegas.
Incidentally, the Catherine gown...
... oh, Monique, you were going up against a McQueen.
You cannot improve it.
It's a battle lost before it's begun.
Also, why is there a dress called 'Pippa' in the same collection?
Having said that, I am a massive Lhuillier fan when she's doing what she does best, and that's creating chic interpretations of fairytale princess dresses. She's got a few dresses that appear to be made out of heavy satin fabric, and these pale in comparison to the magnificent ruffled, light-as-air skirts with corset bodices that lurk within these collections.
This one, colour aside, makes my heart sing.
Is it wrong I'm reminded of clouds, sunshine, and feeling like a kid again when looking at the volume and the frills on that skirt? Because I am. It reminds me of a summer day, sky stretching out in an endless Tiffany blue (Pantone shade 1837), and just running around feeling free and content about it all.
Above is Carolina Herrera's Evelyn gown.
Must say, I'm not a huge fan of it. I got excited when I saw the thumbnail, but the style below has my approval above and beyond the Herrera.
A dress I've loved for years.
And finally, because I suspect this post is going on far too long and I'm going to get readers staring at me incredulously, we reach Nicole Miller.
I used to go straight for Nicole Miller, and I'd always say that if I could afford one of hers, I'd be racing there. After seeing the Henry Roth one, my heart lies elsewhere, but nevertheless Nicole Miller gowns are things of beauty.
This gown is the FA0027 (unfortunate, because I cannot remember numbers to save my life).
The lines on this - statue. But in a brilliant way. It's a new take, I think, on Grecian styles. Rather than the empire line - which I personally find unflattering, but whatever - the use of a dropped waist allows for a more detailed bodice. And the draping of the light fabric, criss-crossing across the bodice, draws the eye in, creating a nipped in waist. The beautiful front ruffle adds a hint of glamour and drama, a modern take on a toga: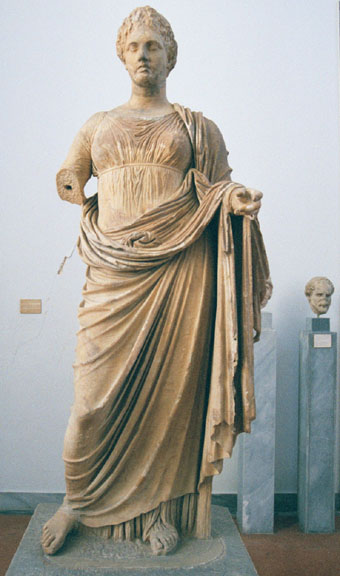 This statue of the Greek goddess, Themis, shows a lot of what looks like heavy draping. Miller's gown recreates that, but in a classy, understated way - still paying homage to classicism, but with modern elegance twisted in.
On my final note, a friend of mine who recently got married did something I adore when it crops up in bridal shoots, but haven't seen much of - she wore coloured shoes. Specifically, darling red strappy heels. Besotted due to the colour and the statement they provided (in her photos, the shoes and her matching red French tips were the most commented - everyone adored them), I went on a shoehunt. I've always told everyone I want Louboutins when I get married (because I don't think I'll be able to justify it otherwise. Sigh, reduced pair at DJs stocktake sale that were $1045... after reduction), and I think I'm in love with these ones.
Showy? Perhaps. With a concealed platform, though, I'd be pretty happy rocking pumps this colour.
OkayIpromiseI'mfinishingupmyunhealthyobsessionpostnow
.